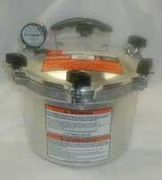 Professional quality, extra heavy duty cast aluminum construction throughout for fast and even heating. All American 915 has a 15 Quart Liquid Capacity, with the Exclusive Metal-to-Metal Seal, Holds 7 Quart or 10 Pint Jars, includes 1 Canning Rack.

MADE IN USA
**Availability is changing often, please know delays are inevitable during this time. We will do all we can, and are very happy to help. Call us with any questions at 800 851 3266 or 623 327 1443.**




MADE IN USA

Features

Crafted of the finest hand cast aluminum Stay-cool bakelite top handle Geared steam gauge Pressure regulator weight with settings of 5 psi, 10 psi and 15 psi Smooth, easy to clean satin finish Exclusive metal-to-metal seal - no gaskets to crack, burn, replace or clean Double thickness edges for additional protection on points of heaviest wear Automatic overpressure release

Size Specifications

Canning capacity: 10 pints

Overall height: 12.25"

Height of bottom Only: 7.50"

Inside diameter: 12.25"